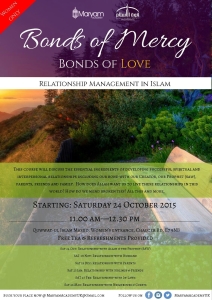 Maryam Academy & Quwwat-ul-Islam Present – Bonds of Mercy, Bonds of Love.
This course will discuss the essential ingredients of developing successful spiritual and interpersonal relationships including our bond with our Creator, our Prophet ﷺ, parents, friends and family. How does Allah want us to live these relationships in this workd? How do we mend broken ties? All this and more.
The talk will be taking place on Saturday 24th October from 11am – 12:30pm at Quwwat-ul-Islam Masjid. The entrance will be from Chaucer Road.
Free tea & refreshments will be provided.
Please note, this event is for sisters only.
Jazakallah.